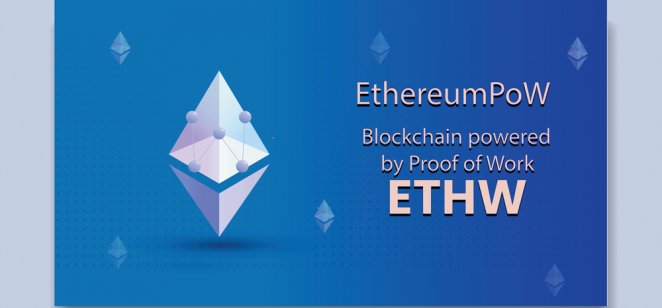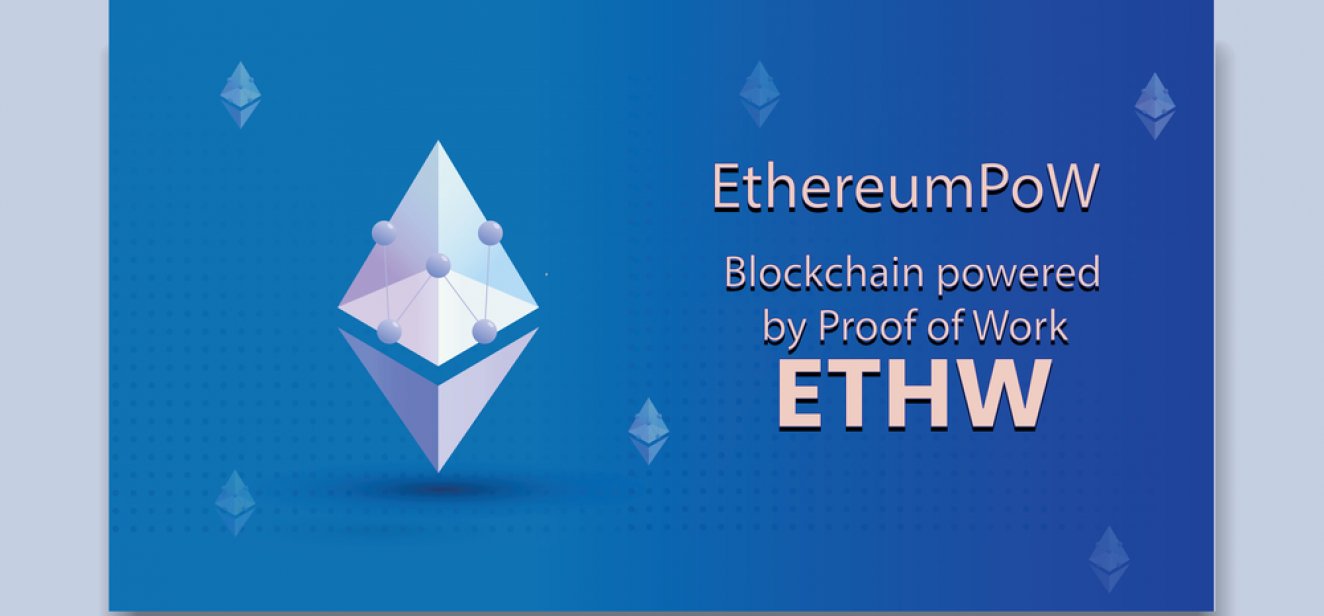 It's one of the more potentially interesting new cryptocurrencies, but what is ethereum pow (ETHW)?
Let's take a look and see what we can find out about this coin, and also examine some of the few ethereum pow price predictions that were being made as of 22 September 2022, too. 
What is Ethereum PoW?
Ethereum is one of the biggest blockchains out there, and its native ether (ETH) coin is the second-largest cryptocurrency, behind only bitcoin (BTC). The Ethereum platform is a key player in the world of decentralised finance (DeFi), giving people the opportunity to create their own programs, called decentralised applications (DApps) that have their own native tokens.
Founded in 2013 by Vitalik Buterin, Ethereum pioneered the use of smart contracts, computer programs that automatically execute once certain conditions are met. These not only helped the platforms it supported, but have also been utilised by a great deal of other blockchains. This is in contrast with the Bitcoin blockchain which, pretty much, mainly exists to support the bitcoin crypto. 
Until very recently, Ethereum operated with a proof-of-work (PoW) consensus mechanism. This meant that, rather like Bitcoin, it relied on people called miners to solve an increasingly-complex series of mathematical equations in order to add blocks to the blockchain and, in return, earn rewards. 
There were two problems with Ethereum's PoW consensus mechanism. First, the system used an awful lot of computing power. Not only was this expensive, but it meant ETH was not terribly environmentally friendly. If we suppose that one of the things crypto in general wants to do is appeal to a fresh generation, then its environmental impact might well serve as a stumbling block.
Second, the way it worked meant that transactions were often a lot slower than they could be. Bitcoin has been able to avoid this problem by specifically doing just the one thing. However, with Ethereum having many functions, this often meant that transactions on the blockchain were slower, which meant that people had to pay higher transaction costs, called gas fees. 
The solution was to move to something called proof-of-stake (PoS). This had involved people being selected to add to the blockchain on the basis of how much of the chain's native token – in this case, ETH – they hold. This requires far less electrical power, which, at least in theory, means it should be more environmentally friendly and, among other things, attract more potential investors. It also means that it should be quicker, which should, again in theory, bring the gas fees down, as well as allowing Ethereum staking to involve the native token.
In December 2020, Ethereum announced it was going to transfer to a PoS consensus mechanism. After a number of delays, the transfer, dubbed The Merge, happened on 15 September 2022. 
While The Merge was eagerly anticipated, there was a downside for the blockchain's miners. Since they were no longer needed, they were no longer able to receive a supplemental income. As a result, plans were made to set up a version of ETH based on the original, pre-Merge, blockchain. Perhaps the highest-profile PoW versions of Ethereum comes in the form of Ethereum Proof-of-Work, also known as Ethereum PoW.
This blockchain, established by a group of anonymous miners, was set up in order to allow people to continue to profit from adding blocks to the blockchain in a traditional way while utilising the same features as the original Ethereum. The new ethereum fork's mainnet came online in the wake of The Merge on 15 September 2022.
Every blockchain needs its own native coin, and Ethereum PoW has one called ETHW. This token is used to pay miners and can be bought, sold and traded on crypto exchanges. 
It is worth noting that the ETHW whitepaper was, at the time of writing on 22 September 2022, basically a blank document. This means that there were no technical details that potential investors could examine to help inform them on whether or not to buy ETHW. We will have to wait and see if there are any updates. 
What is your sentiment on ETH/USD?
Vote to see Traders sentiment!
ETHW price history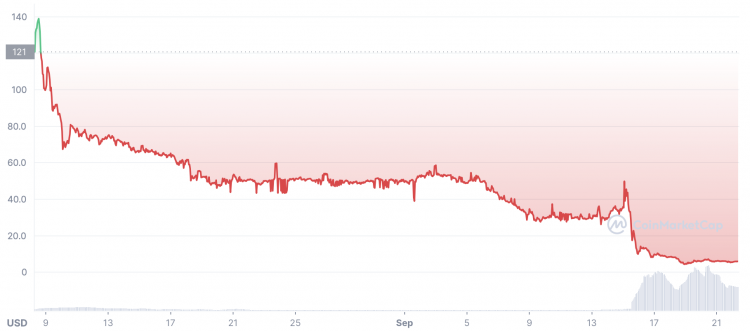 ETHW price history from launch to present – Credit: CoinMarketCap
Now, let's take a look at the ETHW price history, such as it is. While past performance should never be taken as an indicator of future results, knowing what the coin has done in the short time it has been on the market can give some much-needed context when it comes to either interpreting an already existing ethereum pow price prediction or else making one of our own. 
It is worth pointing out that, while ETHW was officially launched on 15 September 2022 – when its mainnet went live – there is a price history dating back to a little over a month before then. On 8 August 2022, was trading, according to CoinMarketCap, at its all-time high of $141.36, but it fell to below $100 the following day when it closed at $83.44. These semi-official prices fell down over the course of the next few weeks, and by the end of the month it was valued at $49.58.
As The Merge approached, the ETHW price grew to a daily peak of $63.29 on 3 September, but then it fell back down to a low of $27.03 on 9 September. The figures looked particularly bad on the day of The Merge, when it dropped from a high of $60.68 to a post-mainnet low of $9.34.
There was some growth once the coin had, for want of a better phrase, become official, and on 16 September it reached a post-Merge high of $14.42. Following that, though, there was a downturn as it suffered a so-called replay message attack, which saw it sink to a post-Merge low of $4.22 on 19 September, but there was some recovery and, on 22 September 2022, the coin was worth about $5.80.
At the time, there were a self-reported 120,524,064 ETHW in circulation out of a maximum supply of 122,444,717. If this figure were accurate, the coin would have a market cap of around $705.5m, which would mean it would be something like the 59th largest cryptocurrency by that particular metric. 
Ethereum pow price prediction round-up
With that all said and done, let's take a look at what few ethereum pow price predictions that were being made as of 22 September 2022. It is important to point out that price forecasts, especially for something as potentially volatile as a cryptocurrency, very often turn out to be wrong.
This is especially true when it comes to a newer crypto, which will also explain why there are not that many ethereum pow coin price predictions out there. Also, we should remind you that long-term crypto price predictions are often made using an algorithm, which means that they can change at a moment's notice. 
First, CoinArbitrageBot was very optimistic at the time of writing when it came to making its ethereum pow price prediction for 2022. The site said by the end of the year the coin could have been trading at a little below $17.22 before it could have moved to $30.64 in 2023 and $49.58 in 2024. The site went with an ethereum pow price prediction for 2025 that ic could have risen to $80.22. How seriously you can take this forecast will all depend on whether, after having done your own research, you think the new crypto can grow by nearly 200% over the next two months or so and by more than 1,250% in a little over two years. 
Next, DigitalCoinPrice had an ethereum pow crypto price prediction that said it could reach $6.08 this year, $8.59 next year and $8.28 the year after that. By 2025, the site said ETHW could be worth $11.45, but could fall again to $10.50 in 2026 and could have recovered to $13.76 in 2027 and $18.45 in 2028. The site suggested the coin could have closed the decade at $24.02, before an ethereum pow price prediction for 2030 that predicted it could have traded at $26.80 that year and gone on to $30.83 in 2031. 
When considering an ETHW price prediction, it's important to keep in mind that cryptocurrency markets remain extremely volatile, making it difficult to accurately predict what a coin or token's price will be in a few hours, and even harder to give long-term estimates. As such, analysts and algorithm-based forecasters can and do get their predictions wrong.
If you are considering investing in cryptocurrency tokens, we recommend that you always do your own research. Look at the latest market trends, news, technical and fundamental analysis, and expert opinion before making any investment decision. Keep in mind that past performance is no guarantee of future returns. And never trade with money that you cannot afford to lose.
FAQs
Does Ethereum still use proof-of-work

As of The Merge taking place on 15 September 2022, the Ethereum blockchain no longer uses the proof-of-work consensus mechanism. 
Is Ethereum moving to Proof-of-Stake?

Ethereum moved to a proof-of-stake consensus mechanism after The Merge took place on 15 September 2022. 
How will proof-of-stake effect the Ethereum price?


Read More: Ethereum Pow Price Prediction | Is Ethereum PoW A Good Investment?